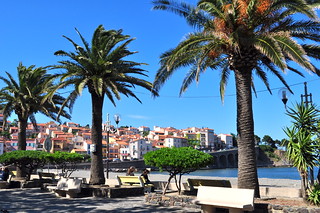 Must see :
Cap Rédéris, exceptionnal panorama between mountains and sea 

The chapel of la Salette

The Maillol Museum
Sea resort and marina, down of the upland of the Albères, where the terraced vineyards go right into the sea.
A village, a beach and a port huddled between Pyrenees and sea, this is what you'll discover at the foot of the Cap Bear.

Your curiosity will guide you through the typical staircase lanes and with the evening coming you'll taste an outstanding pre-dinner accompanied by the sound of a sardane. It is on the lands of Banuyls that is born the noble and rare wine that bear its name. 

Banuyls is made by the sea, but also by its breathtaking hinterland, authentic garden where the nature deploies all the colours and perfumes of the mediterranean flora.